← Back
Engraved Pocket Watches: Most Popular Messages
A pocket watch is one of the most popular gifts for that special someone in your life. Designed to become a treasured heirloom, these beautiful timepieces can be passed down through the family and used to commemorate important events. Whether you're planning on celebrating a milestone birthday, a new job or a wedding day, pocket watches come with the added bonus of being engravable, so you can add a special note or date to make sure they never forget that time in their life.
Coming up with the right words to say on a pocket watch can be tricky. This is a message that's supposed to signify something important and you definitely don't want to get it wrong! We've gone through our archives to find the most popular engraved messages for a range of occasions, whether you use them for yourself or give them a personal twist, they're a foolproof addition to any classic pocket watch.
Birthday Quotes
When you're celebrating an important birthday you can go down many different routes, from classic and heartfelt to cheeky and fun. Of course, one of the easiest messages to go for is their date of birth and 'Happy Birthday' engraved on to a classic pocket watch, but if you're wanting some more, here are our suggestions.
Count your life by smiles not tears.
Count your age by friends not years
May you live to be 100 and may the last voice you hear be mine. Frank Sinatra
And in the end, it's not the years in your life that count. It's the life in your years.Abraham Lincoln
You're still older than me.
Wedding Quotes
An engraved pocket watch is a great gift for the groom and the groomsmen and adding a few personal lines to the case will ensure they never forget the part they played in the day.
Cheers to Good Times,
Great Memories,
And Best Friends
Thank You for Sharing
Our Special Day with Us.
Best Man Once.
Best Friend Always
Friends Make Life Richer
The best time is yet to come…
Depend so much on certain people, you can set your watch by them
New Job Quotes
Starting a new job can be a nerve-wracking time, sent your favourite colleague off on their next adventure with a heartfelt quote to make sure they know how far they've come.
Give the world the best you have, and the best will come to you.
Congratulations on the first step of many in your path to success.
A job well done!
A new door open!
Follow your dreams for they will always lead you in the right direction
A new chapter begins


Anniversary Quotes
Why struggle to find the right words to express your love for a partner? These romantic quotes are perfect for a pocket watch.
I'll Always Have Time for You
There is no remedy for love, but to love more. Henry David Thoreau
All you need is love. The Beatles
After all this time? Always. J.K. Rowling
Our love is timeless.
I love you more with every passing second.
Time stops when I'm with you.
Our love will withstand the test of time.
The best time is yet to come.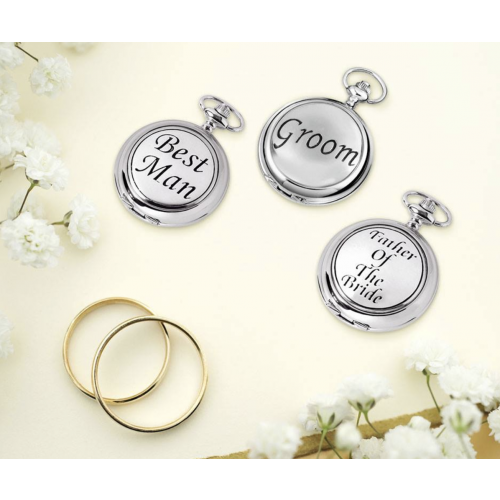 Back To Top