Greenwich Pocket Watches
As far as strong British brands go, the Greenwich pocket watch collection and associated accessories are as good as it gets. Greenwich are famed for their range of British themed pocket watches and cater for all tastes and budgets offering genuine quality and precision timekeeping.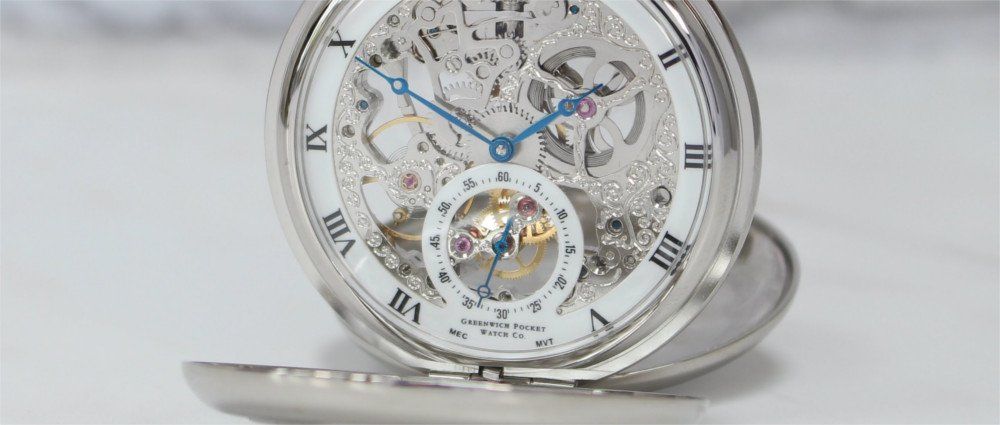 The Windsor collection offers some eye catching double half hunter pocket watches available in gold, silver and rose gold whilst the Westminster pocket watches are inspired from the prestigious English way of living life (they hunt a lot) which historically gave rise to the name of full hunter, half hunter and double hunter pocket watches.

Free engraving is available on all Greenwich pocket watches as well as free shipping, so whether you're looking for that perfect gift for somebody special or just something for your own personal use we're confident you'll find it here.

Greenwich pocket watches bring a little bit of that 'London look' to your style and who wouldn't want that? Each pocket watch is made to be firstly fashionable with style at the forefront followed by quality ensuring that every watch is precise, detailed and crafted to the highest standards and they are now very much positioned as one of the most popular and contemporary designers we have the pleasure to deal with.
Greenwich pocket watches generally have the winder at the 12 o clock position for the simple reason that it looks better and is more practical, especially when you look at the double hunter pocket watches that Greenwich do as when they're stood alone acting as an independent clock it just wouldn't look right in any other position, which is a great example of the level of detail on offer.
Some of the intricacies you will see in the design of some of the Greenwich pocket watches show the amazing work that goes in to them and we recommend the skeleton dial watches for a peek into the inner workings. Greenwich have a mission to become the number one pocket watch worn across the world and they are well on their way due to their dedication of presenting a pocket watch for every budget and for any occasion with full engraving opportunities and a massive range of designs.
Free INTERNATIONAL delivery
All orders are despatched via DHL we will require a signature upon delivery. We aim to dispatch orders within 24 working hours.
FIND OUT MORE >
Free bespoke engraving
Why not add an engraving to your pocket watch to make a gift or occasion extra special, guaranteed to be cherished by the recipient for years to come.
FIND OUT MORE >
Free cleaning cloth
All pocket watches come with a free micro fibre cleaning cloth to help keep your pocket watch as prestine as the day you received it.
FIND OUT MORE >
Back To Top