Mount Royal Pocket Watches
Mount Royal pocket watches made the cut for us as they offer an affordable and stylish pocket watch without breaking the bank with a keen eye on quality and certainly give you bang for your buck. Mount Royal open face pocket watches are simple yet elegant and offer space for engraving on the reverse making them an ideal gift for a wedding or any memorable occasion and are available in gold, rose gold and silver.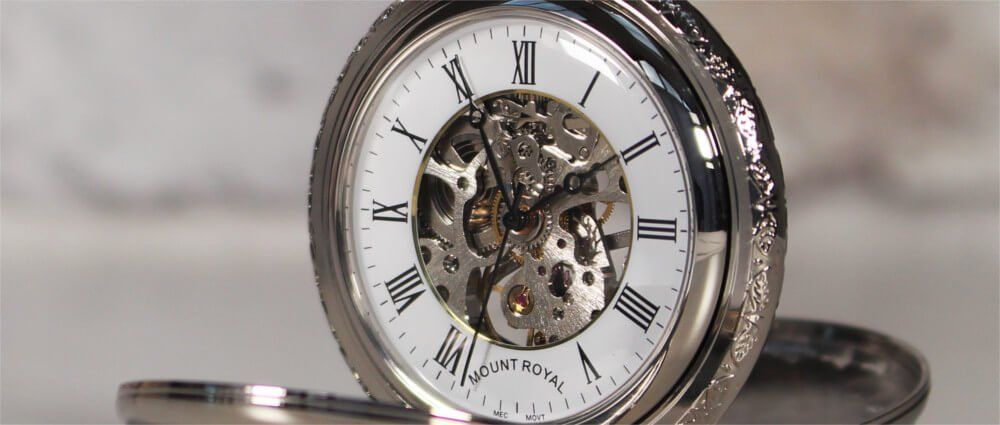 They also offer a contemporary range of Full Hunter and Half Hunter pocket watches where the case will close over the watch to protect the face.
We offer free engraving on most Mount Royal pocket watches as well as free shipping and all of our Pocket Watches arrive to you packaged beautifully and with a full warranty.
Mount Royal is steeped in English heritage and stem from a proud generation of passionate watchmakers and today they're currently the biggest seller of mid-range pocket watches across the whole of Europe. A pride maintained in only using the finest materials with a fine eye for finding people with the highest skill sets to ensure the creation and evolution of some the most beautiful pocket watches and wrist watches on the market.
Mount Royal offer such a tasty range of the differing styles of pocket watch that have taken shape over the years adapting to the demanding trends of pre and post war fashions right up to the modern day and no doubt beyond required which makes them a perfect choice for as they posses an undoubted ability to craft pocket watches that cater for an eclectic range of tastes, fashions and celebratory occasions.
Free INTERNATIONAL delivery
All orders are despatched via DHL we will require a signature upon delivery. We aim to dispatch orders within 24 working hours.
FIND OUT MORE >
Free bespoke engraving
Why not add an engraving to your pocket watch to make a gift or occasion extra special, guaranteed to be cherished by the recipient for years to come.
FIND OUT MORE >
Free cleaning cloth
All pocket watches come with a free micro fibre cleaning cloth to help keep your pocket watch as prestine as the day you received it.
FIND OUT MORE >
Back To Top